Blood and Smoke - A cover
La sortie de l'audiobook "Blood and Smoke" est prévue le 09 Novembre prochain chez Simon et Schuster.
Ci-dessous, la couverture :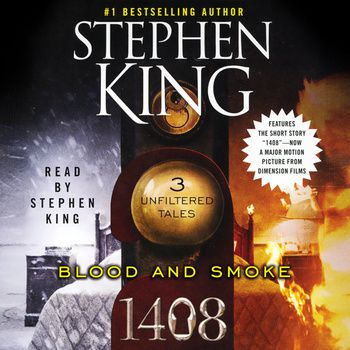 Revue de presse d'Audible.com
This collection of short stories from the master of modern fiction is available only as an audiobook. In Blood and Smoke, Stephen King takes us inside a world of yearning and paranoia, isolation and addiction. It is the world of the smoker. In this audio-only collection, the now politically incorrect habit plays a key role in the fates of three different men in three unabridged stories of unfiltered suspense. In Lunch at the Gotham Café, Steve Davis is suffering through intense withdrawal - from both nicotine and his wife. His desperation for a cigarette and for his ex are almost too much to bear, but that's nothing compared to the horrors that await him at a trendy Manhattan restaurant. In 1408, Mike Enslin, best selling author of "true" ghost stories, decides to spend the night in New York City's most haunted hotel room. But he must live to write about it without the help of his ex best-friends, his trusty smokes. And in In the Deathroom, a man named Fletcher is held captive in a Central American stronghold. His captors will use any torturous means necessary to extract the information they want from him. His only hope lies with his last request - one last cigarette, please.
Features the tale 1408, now a Dimension Films motion picture starring John Cusack and Samuel L. Jackson.
These unabridged selections also appear in the print edition of Everything's Eventual. More unabridged stories from Everything's Eventual are available in The Man in the Black Suit, Riding the Bullet, LT's Theory of Pets, and Everything's Eventual.